Maldives Pavilion | Portable Nation |
Disappearance as work in progress – approaches to Ecological Romanticism.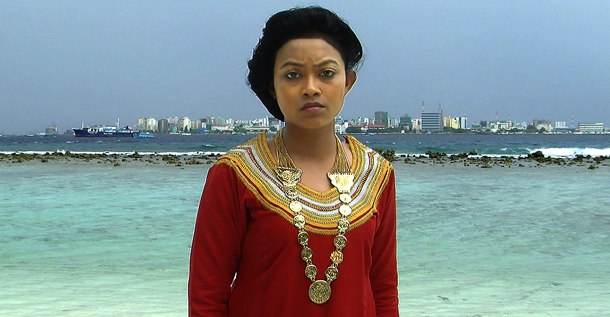 The history of the artistic aesthetics of the Maldives is not widely documented as the island nation is not known for its visual arts activities but rather for the supreme beauty of its ocean, ecology and environment. The art collective Chamber of Public Secrets (CPS) combines the two aspects by treating the culture and nature of the Maldives as the central subject of the Maldives Pavilion.
The Maldives Pavilion is an eco-aesthetic space, a platform for environmental campaigners, artists and thinkers.
Through inviting artists and contributors to the Maldives Pavilion the intention is to provide a meaningful aesthetic experience and extensive knowledge of the concept of Contemporary Environmental Romanticism in relation to the nature and culture of the Maldives. That way, audiences may apply their knowledge and daily experiences to the understanding and appreciation of this particular environmental case. Consequently, CPS has been looking for an unusual treatment of the Maldives Pavilion, something in the direction of how Contemporary Environmental Romanticism underlines the interpretation of nature as a source of aesthetic experience.
Being Europeans and Arabs the appointed curators have wished to partially capitalize on their diverse cultural identities (West and East). On the one hand Western thoughts concerning nature has been marked by dualism, the notion of the opposition of nature and culture. On the other hand Eastern thoughts consider nature a guide / source of intellectual and spiritual inspiration, because in Eastern thoughts the natural world simply "is" the law, and human activities are adjusted according to its mechanisms.
Curators: Khaled Ramadan, Alfredo Cramerotti, Aida Eltorie.
Associate curators: Maren Richter, Camilla Boemio.