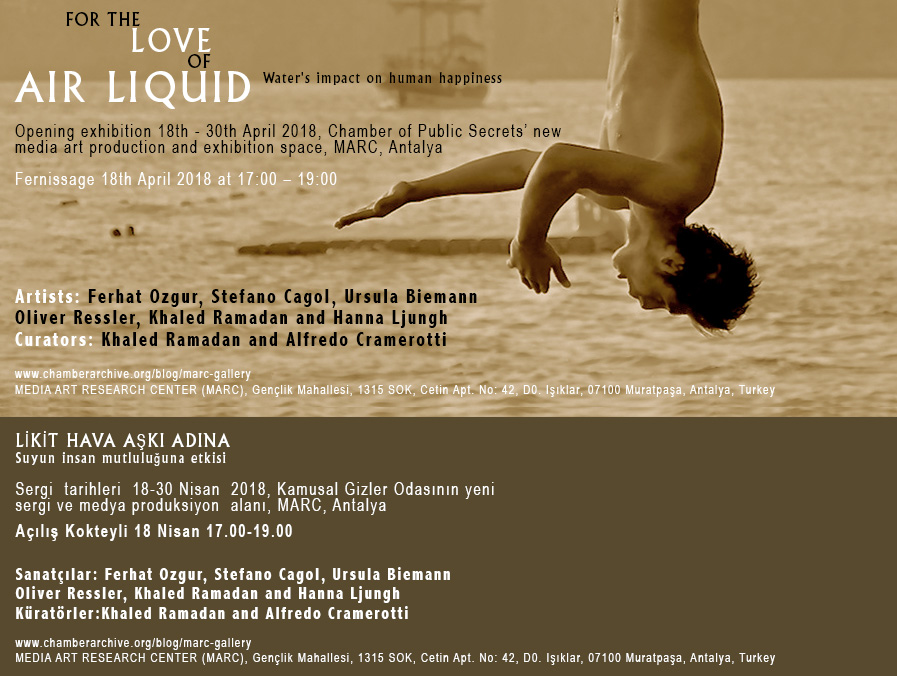 Water's impact on human happiness
Opening exhibition 18th – 30th April 2018, Chamber of Public Secrets' new media art production and exhibition space, Media Art Research Center (MARC), Antalya
Fernissage 18th April 2018 at 17:00 – 19:00
Artists: Ferhat Ozgur, Stefano Cagol, Ursula Biemann, Oliver Ressler, Khaled Ramadan and Hanna Ljungh
Curated by Khaled Ramadan and Alfredo Cramerotti
For the love of air liquid
Water's impact on human happiness
I his book, Blue Mind, biologist Wallace J. Nichols published the surprising science showing how being near, in, on, or under water can make us happier, healthier, more connected and better at what we do.
Nichols analyzes the emotional, behavioral, psychological and physical connections that keep humans so mesmerized by water. He studies seas and oceans, lakes and rivers, and even swimming pools, and urges people to get closer to water if they wish to change their neurological, psychological and emotional experiences. Nichols draws on science, art, and narrative, as well as plenty of experience, to explain his blue mind in detail. Not just what it is, but how we can enter into this state, and, perhaps most importantly, why we should do so.
In order to know why water is one of our sources of happiness, or even a source of misery, we need to observe and analyze a very complex social science in conjunction with natural science: human relation to nature and the natural.
When we intend to shape nature, it changes and influences our living conditions. Due to this out-of-balance climatological interrelationship several vital elements of our survival are being affected. Water is becoming scarcer in some parts of the world while in other parts people suffer from the extra quantities of water falling from the sky or pumping from underneath.
In the scenarios of the world's water bodies, only 3 percent of the water on the earth's surface is fresh and drinkable, while 97 percent of the water is salty. The 3 percent fresh water is shared amongst the billions of the world's population. Water shortage will soon hit cities and towns across the world, and the problem is increasing as populations are increasing. Industrialization and pollution are causing damage, and the greenhouse effect is having a negative impact, which leads to climate change that directly affects water sources. In an increasingly crowded and congested world, water supply has become scarcer and more contaminated.
Waste from industries and human settlements in most underdeveloped countries are drained into rivers and seas, leading to dying oceans. A good example of this is the Mediterranean Sea. Another example is one of Asia's longest rivers, the Mekong River, where thousands of people have settled by the riverbank. The same analogy can be applied to the Nile River in Africa and to other rivers across the world. Lakes, rivers, seas and oceans used to be a source of human happiness and prosperity, but mass contamination, overfishing, and water scarcity have reduced many of them to transportation highways.
The exhibition, For the Love of Air Liquid, presents an opportunity to address the issue of water in a time of a crashing climate. The works of the invited artists examine our fascination with the water scene in detail. They are dedicated to helping us understand and enjoy a selection of contemporary art that provides inspiration and knowledge.
Curators
Khaled Ramadan and Alfredo Cramerotti
---
Artists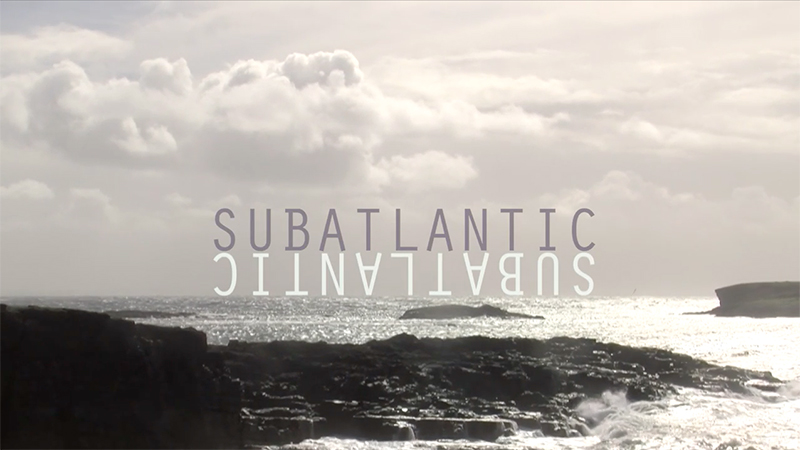 Ursula Biemann
Subatlantic, 2015
HD video, 11 minutes
With an understated touch of science fiction, Ursula Biemann's video essay juxtaposes the science of geology and climatology with human history. The video unfolds across the Subatlantic, the latest climatic phase of the Holocene that began about 2,500 years ago and has registered major civilizational changes. The voiceover alludes to a she-scientist who is making instrumental observations about a changing environment around the last glacial melts. From an increasingly submerged place of oceanic observation, her objects of examination are as much the physical world and the atmosphere that is engulfing her as the thoughts that are formed, reconfigured or released under the changing conditions. Subatlantic also refers to the submerged space of the Atlantic Ocean. Set in the Shetland Islands, Greenland's Disco Bay and a tiny Caribbean Island, the video implicates far apart locations that are connected through ocean streams, addressing submerged dynamics that are non-localized and invisible to our eye.
Ursula Biemann is an artist, writer, and video essayist based in Zurich, Switzerland. Her artistic practice is strongly research oriented and involves fieldwork in remote locations where she investigates climate change and the ecologies of oil and water, as in the recent projects Deep Weather (2013) Forest Law (2014) and Acoustic Ocean (2018). Her earlier work focused on geographies of mobility, e.g. in the widely exhibited Sahara Chronicle on clandestine migration networks. Her video installations are exhibited worldwide in museums and at international art biennials in Liverpool, Sharjah, Shanghai, Sevilla, Istanbul, Montreal, Venice and Sao Paulo. She had comprehensive solo exhibitions at Neuer Berliner Kunstverein, Lentos Museum Linz and Helmhaus Zurich. Biemann is part of the collaborative World of Matter project and received the 2009 Prix Meret Oppenheim, the national art award of Switzerland. (geobodies.org)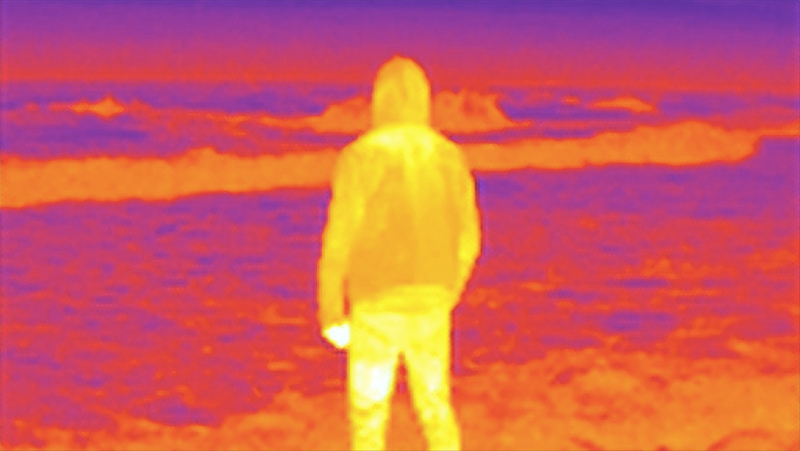 Stefano Cagol
The Body of Energy (of the mind) – A Mojacar Sea Walking, 2015,
HD video, 6.22 min/looped
Courtesy Innogy Foundation, Essen and the artist
The artist performed in front of a very rough sea with big weaves, trying to trigger a dialogue and to visualize the strong energy of sea weaves through the vision of infrared waves. So the relation with water and is not more just physical, but even spiritual.
Stefano Cagol in his project "The Body of Energy (of the mind)" works on energy and the exchanges of energy between the individual and the nature in a video realized using a thermal camera able to decode heat as a type of energy.
The video is part of the extended project titled "TBOE. The Body of Energy (of the mind)" started in 2014 as recipient of the Visit prize by Innogy Foundation and supported, among others, by MAXXI Museum in Rome, Madre Museum in Naples, ZKM in Karlsruhe, Folkwang Museum in Essen and Landmark / Bergen Kunsthall.
Stefano Cagol (b. 1969) is an Italian artist. He received a post-doctoral fellowship from the Ryerson University in Toronto.
His recent participations include the exhibition of the German Ministry of Environment for COP23, the grand inaugural show at Haus Mödrath, Cologne (till Nov. 2018), Manifesta 11 in the Cabaret der Künstler – Zunfthaus Voltaire, the Maldives National Pavilion at the 55th Venice Biennale and the 1st Singapore Biennale.
www.stefanocagol.com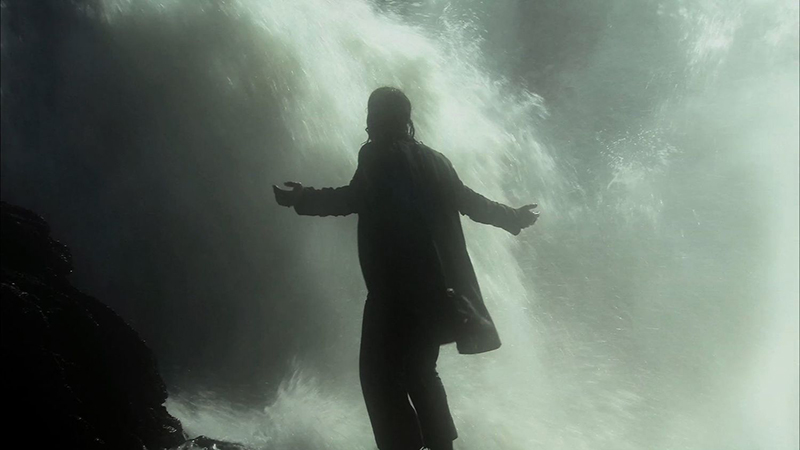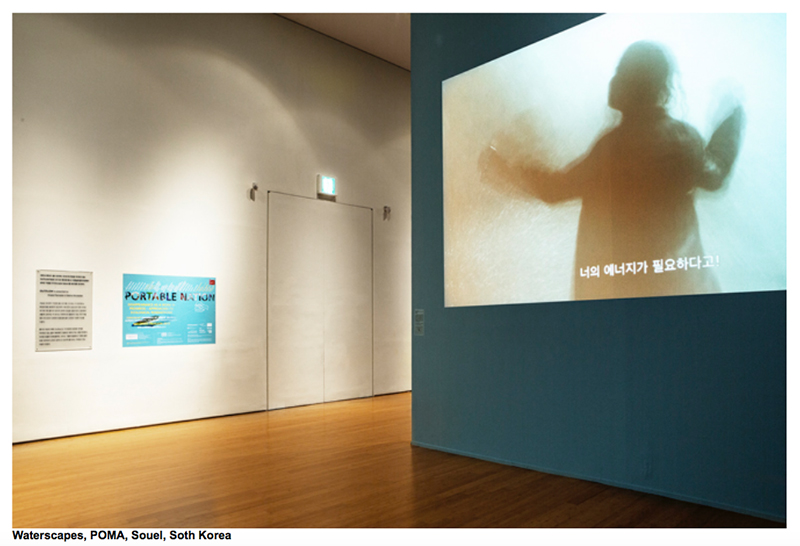 Hanna Ljungh
How to Civilize a Waterfall
Video 3:53 min. 2010
In the video How to Civilize a Waterfall, artist Hanna Ljungh performs an authoritative confrontation with nature, an indifferent and independent force. Inspired by the dramatic expressiveness of hard rock music, Ljungh challenges a waterfall and tries to persuade it to turn into a hydroelectric power plant. The work reveals humanity's comical and paradoxical relationship with nature. The encounter becomes an emotional and almost spiritual experience – an encounter with one's self.
Hanna Ljungh is an artist living and working in Stockholm, Sweden. She is educated at The Royal University College of Fine Arts and University College of Arts, Crafts and Design, Konstfack, Stockholm, and has obtained an honors degree at Parsons School of Design, New York.
She had several solo exhibitions since the year 2000. Her work is represented at Collezione Maramotti, Reggio Emilia, Italy; Nacka Kommun; Stockholms Läns Landsting; Stockholm Konst; Region Skåne; and Statens Konstråd.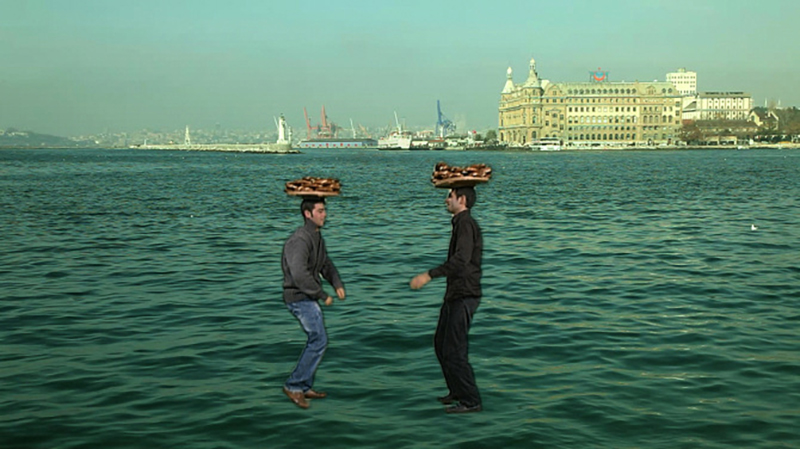 Ferhat Özgur
'Misket / Marble Dance'
Video 2010-2011
On this particular day I bought all the 'simits' off the two simit-seller men who had migrated from Ardahan to Istanbul. According to their account they sell a maximum of 170 simits a day. So I generously gave them an extra 170 YTL which is normally their total income for a day. I wanted them to do only one thing: to have 'The Right of Laziness For One Day'. They were just two of the Kursidsh immigrants who try to cling to life in a city whose ground is 'slippery'. In a city that they do not know well enough and with folk music that they were not familiar with, they were supposed to dance and have fun. After all, it would mean for them 'The Right of Laziness For One Day' to the accompaniment of music on the gently moving Marmara Sea.
As seen in the sketches, the installation consists of two walls. Whilst the first one shows the video dance performance of the two simit sellers; the other one is a big sized photograph covering up the whole surface and shows a snapshot of the solidarity between the public and the simit sellers whose workbench has been destroyed by the municipal police. A large number of bronze cast simit sculptures (imitation patterns) are spread on the ground. So, while the project portrays a certain reality from different viewpoints with different mediums, it also reflects a transivity of various mediums used at the same time.
Ardahan'dan Istanbul'a goc etmis iki simitci cocugun tum simitlerini o gun satin aldim. Soylediklerine gore gunde en fazla 170 adet simit satiyorlarmis. Ek olarak 170 simitten kazanacaklari toplam para kadar ayrica bir odenek daha verdim. Onlardan tek bir sey istedim: Bir gunluk Tembellik Hakki. Zemini kaygan bir kentte, Istanbul'da tutunmaya calisan iki Kurt gocmenden biriydi onlar. Bilmedikleri bir kentte bilmedikleri bir oyun havasi esliginde oynayacaklardi. Marmara denizinin hafiften dalgalanan yuzeyi uzerinde olsa olsa MISKET oynamak Tembellik hakkini kullanmak olurdu.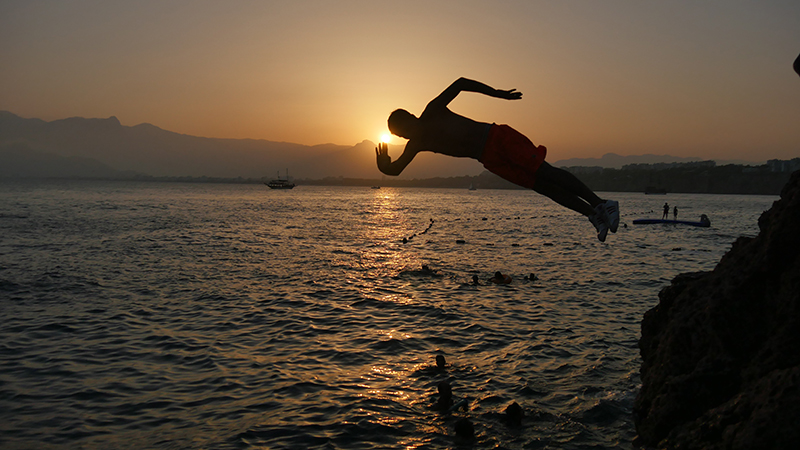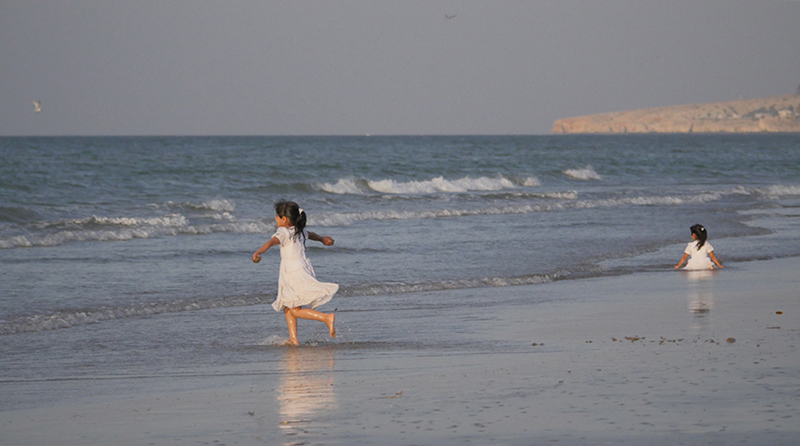 Khaled Ramadan
Air Born 2018
HD video, 10 minutes
The in-progress research project, Air Born, addresses and documents human behavior and relation to water across many countries, from Cuba to Arabia, Cambodia and Indonesia. The project is at its second stage and consists of photography, a short film, and articles.
The project started during Ramadan's Frontiers residency at HIAP in spring 2014.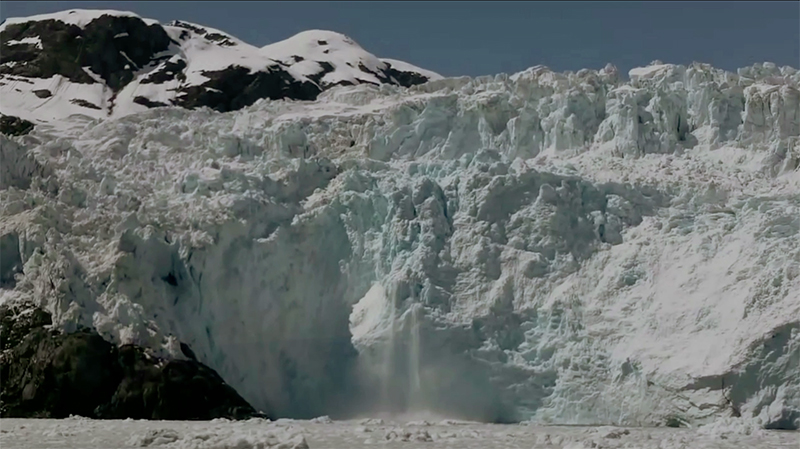 Oliver Ressler
Leave It in the Ground
Film 18 min. 2013
In recent years, countless extreme weather events have clearly indicated that climate change is not only a future phenomenon but is already taking place. Some of the effects of global warming—desertification, more frequent droughts, less frequent but more intense precipitation, lower crop yields— are inflaming existing social conflicts. In the Global South, climate change aggravates the crises of poverty, violence, and unrest that result from the legacies of colonialism and neoliberal capitalism. This vicious circle fuels humanitarian crises and civil wars that amplify political, economic and environmental disasters.
Despite clear warnings, the ruling powers do not have a political agenda with a serious strategy to reduce use of fossil fuels, the main cause of global warming. Fossil-fuel fundamentalism seems to dominate throughout the globe.
Recently, some of Norway's politicians have advocated extracting petroleum in one of the largest fish and aquatic life spawning grounds on the planet, the sea encircling the Lofoten archipelago. The deepwater drilling would have unpredictable effects on the fish populations and some of the world's cleanest waters. With the idyllic landscapes of the Lofoten archipelago as its background, Leave It in the Ground describes the climate crisis not as a technical and scientific problem, but as a political problem. The film discusses how ecological and humanitarian disasters caused through global warming might topple old orders and open up possibilities that could lead to long-term social and political transformations, both positive and negative.
The film is accompanied by three photographic works evoking scenarios of a post-oil world.
Director and producer: Oliver Ressler
Narration text: Oliver Ressler & John Barker
The text is partly inspired by Christian Parenti, Tropic of Chaos: Climate Change and the New Geography of Violence (2011); Rebecca Solnit, A Paradise Built in Hell (2009); Naomi Klein, Capitalism vs. the Climate (2011).
Narrator: Andrew Golder
Camera, film editing: Oliver Ressler
Sound design, mix and color correction: Rudolf Gottsberger
Music from the album: Kate Carr, Songs from a Cold Place (2013)
Footage: Mosireen; Anonymous video makers
Special thanks to: Bassam el Baroni, Dorian Batycka, Derek Jarman, Tadzio Müller, Maren Richter, Odd Arne Sandberg, Berte Tungodden Ynnesdal
The film was commissioned by LIAF – Lofoten International Art Festival 2013, supported by BMUKK.
www.ressler.at